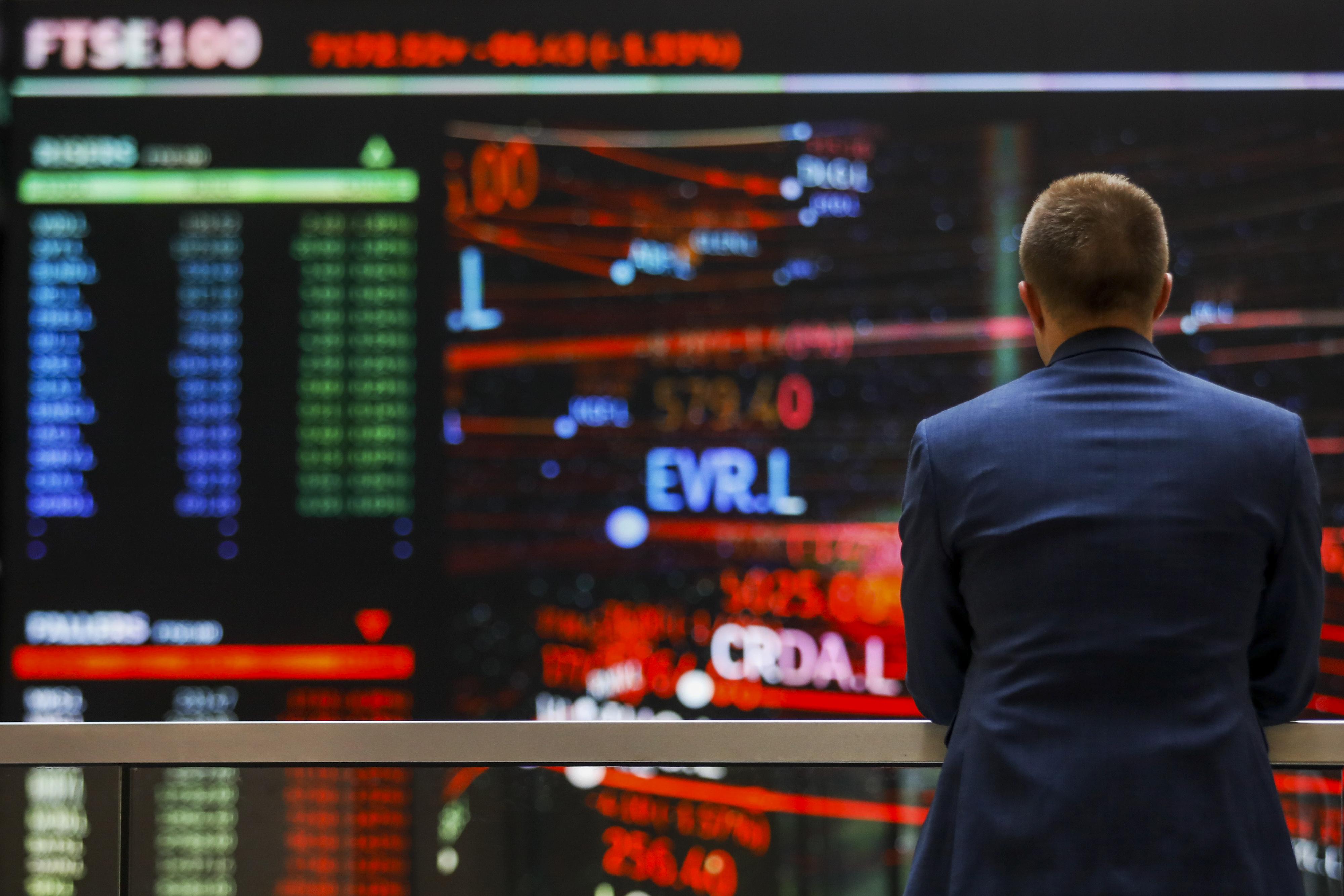 See TME's daily newsletter email below. For the 24/7 market intelligence feed and thematic trading emails, sign up for ZH premium here.
NASDAQ – checking in on the 2002 analogy
The 2002 analogy is less perfect than it used to be, but the frustrating lower grinding market continues to create a lot of p/l pain. Let's see if we resume the 2002 trajectory, or if something "new" happens…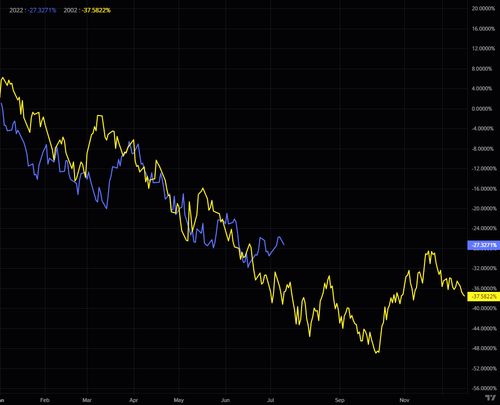 Source: Refinitiv
Best part of summer already (almost) over
Positive July seasonality helped the market narrative in the first few days of the month, but strong seasonality is historically more biased towards 1H July, so that tailwind is set to fade as 2H July seasonality is typically weaker (no strong trends one way or the other).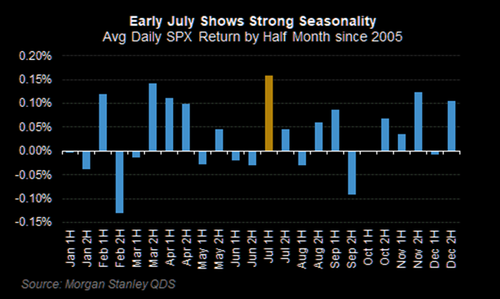 Source: Morgan Stanley
NASDAQ – never underestimate the 50 day moving average
NASDAQ reversed perfectly on the bigger resistance and the 50 day moving average, right in the upper part of the negative trend channel. Erratic moves without a clear trend continue to "haunt" this market. NASDAQ is trading at the same levels as we traded at in mid May. We need more "boring" before a new trend kicks in…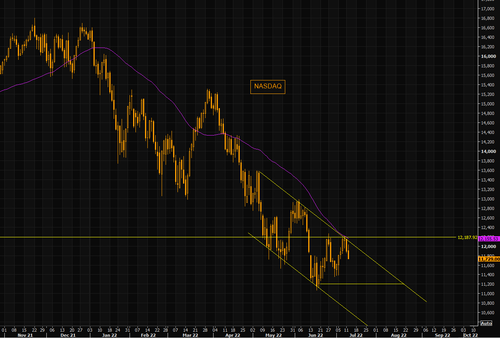 Source: Refinitiv
The chart that keeps bears up at night
Maybe, just a little…..Yes, sentiment can stay very depressed for a very long time, but when we are at these levels the squeezes also can get violent.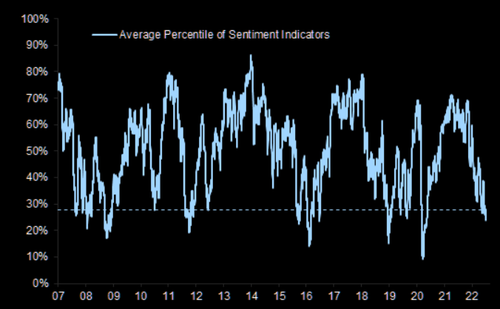 Source: Goldman
Welcome back to short gamma
We are far from "deep short gamma" land, but note we are back in short gamma territory. We lack new big narrative, but given the poor liquidity we are seeing and the fact we are back in short gamma, things will move relatively "easy".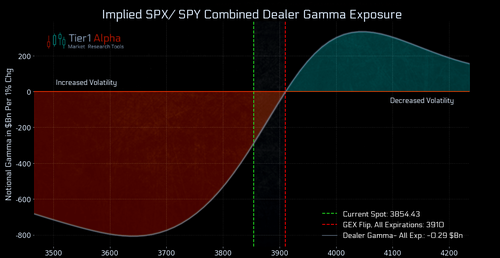 Source: Tier1Alpha
Europe – the gas sucker
Europe remains the main sucker when it comes to most "macro" issues. The gas situation risks becoming nasty. The effect on the German economy is potentially huge, and the spill over effects on unemployment look scary.

Source: Barclays
Don't worry – Europe's credit protection is (still) worried
The bid in credit protection, especially the European version, remains extreme.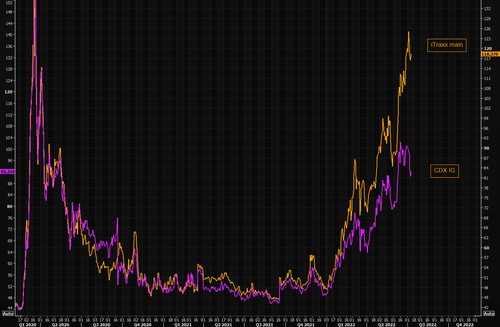 Source: Refinitiv
Kolanovic's key calls
1. Given the disparate recession risk pricing, we reduce the weight of corporate bonds and increase the weight of government bonds in our model portfolio to move credit back to an UW stance. In this way our model portfolio's pro-risk stance refocuses on equities and commodities, with a credit UW serving as a partial hedge in an adverse scenario
2. We keep a large overweight in commodities and commodity-sensitive assets and would advocate adding on the recent pullback, given our supercycle thesis and as a hedge for inflation and geopolitical risks….we could see Brent go to $190/bbl, while a cut of 5mbd could drive oil to $380/bbl. 
3. Within equities we favor cyclicals, small caps and EM/China over crowded/expensive defensives.
4. Further in Equities, we reiterate our key overweight in Energy stocks, a deep Value sector which is also scoring well on Quality, Growth, and Income factors.
5. In Currencies, recent EUR weakness reflects a doubling of regional gas prices, with EUR/USD pricing in a 20-25% odds of complete shutdown of Russian gas supply. Non-linear growth risks prompt us to cut our target for EUR/USD to 0.95, though we could test 0.90 in the event of an adverse scenario.

Source: JPM Macro
The commodities "swan" playing out
A few weeks ago we suggested the "next big black swan" and referred to Albert Edwards most recent logic on commodities: "But I still see commodity prices plunging just like in Q4 2008, back then taking headline CPI inflation from +5% to -2% in just 12 months." We also wrote: "It looks like consensus regarding rates and commodities moving only higher could be in for a wild ride…"
The chart shows various commodities indexes and the most recent crash…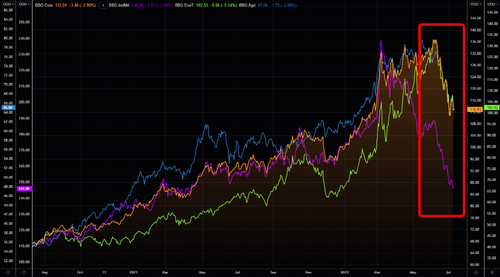 Source: Refinitiv
Oil – back to massive levels
It wasn't long ago oil was trading at these "shockingly low" levels. Black gold is well below the 100 day moving average and is losing momentum. 200 day moving is just below the lower part of the "must hold" range. Close it down another buck or two and all those late oil bulls will start feeling real pain (Our latest non consensus oil logic was last outlined in our thematic email "Is the mother of all consensus trades running out of steam?" click here).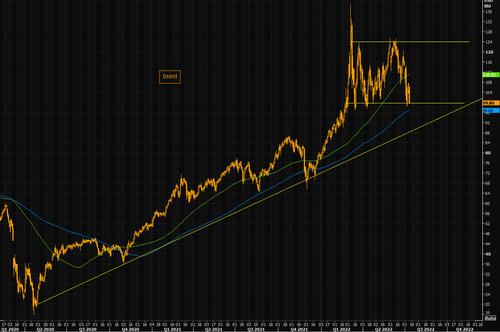 Source: Refinitiv
Oil just getting started?
We have been pointing out the BCOMIN (metals subindex) vs oil chart for some weeks. A gentle reminder of just how elevated oil still is compared to stuff like the BCOMIN index.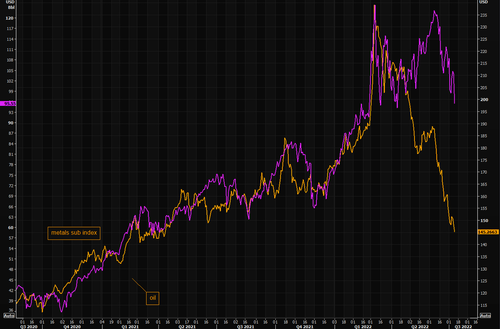 Source: Refinitiv
There are so many options to choose from when deciding upon a Crown Bullion has been proudly serving clients for more than ten years and impressively holds a AAA rating with the Better Business Bureau To discover ways you can start protecting your assets with gold and silver go to CrownBullion.com.
This article was originally posted here.